Rousimar Palhares (leglock v. Jon Fitch) - World Series of Fighting 16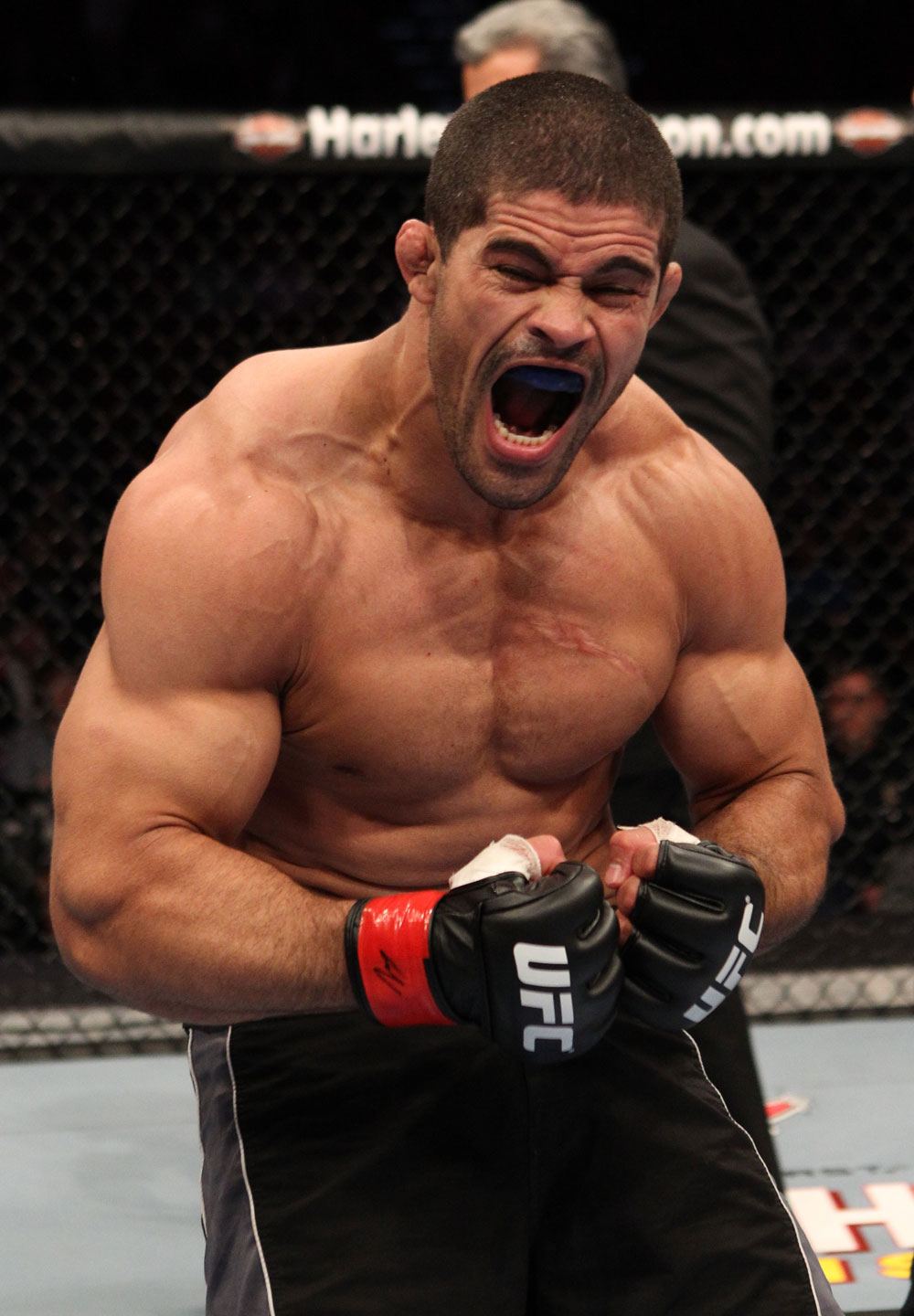 Stop me if you've heard this one before.
Guy squares off against Rousimar Palhares. Fight goes to ground. Palhares grabs opponent's leg. Squeeze. Pain. Tap.
While scientists and fight fans have uncovered
one individual
able to withstand the relentless and often punishing leg lock attack of Rousimar Palhares, the rest of humanity would be well-advised to keep combat contests with the limb-snapper affectionately known as "Paul Harris" on the feet.
Jordan Breen once made a great point that for all the talk of "well-roundedness" in mixed martial arts, there is and may always be something special if not vital about successful fighters with only a sole path to victory. And while there will always be killshot artists like Chuck Liddell, you've really got to hand it to a fighter whose single path to victory is a submission.
Palhares is just that kind of guy. And even if his submission-uber-alles approach proves not be enough to make him more than the champion of a second-tier mixed martial arts organization, it's hardly a bad way to spend a career kicking ass.
Rousimar can be a hard guy to love - even for those of us in the "take few prisoners" school of jiu-jitsu in MMA. He has been criticized for holding submission holds - particularly heel hooks - "too long" and subjecting his opponents to greater than necessary injury. And as someone who has seen
Rousimar grapple in training
, I would love to see more of his submission arsenal (why not add a few arms to his growing collection of legs?).
One interesting MMA Submission Hero of the Week trivia note.
Last week, two our of our top three submission heroes were heroines
. This week, two of the top three submission heroes got it done with leglocks. In fact, compared to last week, the diversity among submissions was impressive with chokes, armbars, and leglocks each earning equally effective fight-ending applications.
*
Runner's Up
Ian Entwistle (leglock v. Anthony Birchak) - UFC on Fox 13
John Moraga (choke v. Willie Gates) - UFC on Fox 13
Honorable Mention
Yancy Medieros (choke v. Joe Proctor) - TUF 20 Finale
Felice Herrig (armbar v. Lisa Ellis) - TUF 20 Finale
Aisling Daly (armbar v. Alex Chambers) - TUF 20 Finale
Drew Dober (choke v. Jamie Varner) - UFC of Fox 13
*
What is an MMA Submission Hero?
Death to the death of jiu-jitsu in mixed martial arts! There are guys and gals getting it done with chokes, armbars, leglocks and more every weekend in the cage!
MMA Submission Hero of the Week recognizes the men and women who finish fights "the gentle way." Each week we'll highlight MMA's best stranglers, arm collectors, and leg snappers, be they well-known jiu-jitsu superstars or a small-show strikers with a knack for pulling off the occasional submission surprise.
Check the sidecontrol blog every Sunday after a weekend of MMA action and see just who is this week's MMA Submission Hero of the Week!